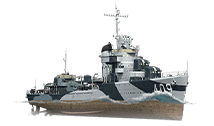 The USS
Sims
, DD-409 has a rich history and a very interesting story of courage against overwhelming odds. She was sunk during the
Battle of Coral Sea
defending the US fleet's oiler, the USS
Neosho
. She went down with guns still firing and only 15 survivors (2 died later) but she defended her charge successfully from the Japanese. For a more detailed history and account of her loss follow this link:
http://www.delsjourney.com/uss_neosho/coral_sea/other_ships/uss_sims.htm
In World of Warships the
Sims
is a Tier VII premium American destroyer that was available for pre-order during closed beta testing (CBT) and then withdrawn for at least a year from the Premium shop. LIke most US "tin cans" she is fast, maneuverable, quick firing and has good AA. Also like most US destroyers her torpedoes are a weapon of last resort or ambush weapon from the cover of islands or smoke.
http://wiki.wargaming.net/en/Ship:PASD029_Sims_1941
When you play the
Sims
you have 3 primary roles:
1) Scouting for enemy ships using your concealment
2) Killing enemy DD's with superior gunfire and/or ambush
3) Capping flags
While accomplishing these three missions you can also escort larger vessels in an anti-DD and to a lesser extent AA role. Don't discount the AA aboard the
Sims
, this is the later
Sims
when one turret was removed to add further AA defense. Just remember when scouting and anytime when wanting to increase/maintain concealment turn off your AA by pressing "P" and then turn them back on when needed using the same key.
NoZoupForYou
has a great video on the use of the Sims even though it was made during CBT:
https://www.youtube.com/watch?v=bGZdtNgEvXM