Preface: When I was going through one of my police academies there was a bald, veteran homicide detective, Sgt. Pike of Multnomah County Sheriff's Office, who decided to play a game with the rookies, "Homicide, Suicide or Accident" on Halloween no less. He pulled out an unlucky 13 sets of gruesome death scene photos for us to analyze and play detective. The following story has all the elements of my former instructor's game and I'll let you decide, was it murder, suicide or just an accident?
The Death of an Admiral
Four bells had been struck on the forenoon watch aboard the flagship of the carrier task force crossing the Atlantic to Scapa Flow. The lookouts on duty were surprised when the admiral came out on deck unaccompanied by his flag lieutenant and without his coat in Force 6-7 winds and rough seas. But he was rumored to be a bit of an eccentric, he had recently returned to sea from a long duty ashore as the head of the Bureau of Inspection and Survey. The president had a secret commission draw up a list of the top forty admirals of the navy and he was on it so surely he knew what he was doing. The man even had earned the Navy Cross, though it was for excellent staff work, not for commanding a real warship, let alone a task force of this size…
At 10:31 hours one of the lookouts saw a body go the side of the ship and cried out, "Man overboard!" Alarms were sounded and the ships of the task force alerted. The captain ordered a muster of the crew and flag personnel. That was when a flag lieutenant told him the grim news, the admiral was missing.
An escorting cruiser signaled the flagship, they had swerved to miss a man struggling in the water. The carrier launched four search aircraft but the sea took her toll as one crashed due to the stormy conditions, killing the aircrew. The remaining three searched but to no avail. Then a destroyer spotted the body in the ocean, face down, but due to the sea state could not stop to recover the corpse. It was soon lost from view. After two hours the search was called off by the second-in-command, not wanting to risk any more sailors' lives. An investigation was started, was it an accident, homicide or suicide?
NCIS is a popular TV show on CBS, photo copyright CBS, All Rights Reserved
It sounds like the plot to the popular TV series
NCIS
but it is not, it really happened on March 27, 1942. Rear Admiral John Walter Wilcox, Jr. was "lost at sea" from the battleship, USS
Washington
, while serving as both Commander - Battleships, United States Atlantic Fleet and Commander - Task Force 39 consisting of the carrier USS
Wasp
(CV-7), his flagship USS
Washington
(BB-56), heavy cruisers USS
Tuscaloosa
(CA-37) and USS
Wichita
(CA-45) as well as eight destroyers. It was the destroyer USS
Livermore
(DD-429) that had last seen Admiral Wilcox's body.
Rear Admiral John W. Wilcox, Jr., photographed when a US Navy Captain.
A Board of Inquiry was convened by Admiral Wilcox's successor, Rear Admiral Robert C. Griffin, who had been aboard the
Wichita
as his flagship. Testimony was taken, some suggested the admiral had seemed nervous and unstable in recent days, they were only 1 day out from Portland, Maine into the war zone where U-boats were a constant menace. Others suggested murder though no one could point to a suspect there were plenty of possible, but unlikely motives: an enemy agent in the fleet, a resentful officer who saw an opportunity to eliminate an incompetent commander or even an enlisted sailor harboring a grudge against being drafted and sent to war. Then there was the testimony that the admiral had looked pale and weak on the morning of March 27th. The ship's surgeon speculated that he could've had a heart attack and fallen overboard. Later others would point at sea sickness as a possible culprit speculating he ran to the rail to "feed the fishes" and in turn became their meal due to the rough seas.
Bow of USS Washington as she crossed the Atlantic in Spring, 1942 after Admiral Wilcox was lost at sea.
The fallacy of that line of reasoning was that Admiral Wilcox had been serving aboard the USS
Washington
since December, 1941 when he had been promoted to Commander – Battleship Division 6 from President of the Navy's Inspection and Survey (INSURV), the bureau which ensures ships are combat ready. He was determined to fix the problem that plagued the
North Carolina
-class battleships, such as
Washington
, as well as cruisers such as the
Atlanta
-class. They suffered from acute longitudinal vibrations from her propeller shafts when attempting full speed. The ships were designed with three bladed propellers but these proved to be the problem. Wilcox and the builders had changed them, at no small cost, trying out cut down three-bladed props, then four-bladed and finally five-bladed propellers to eliminate the shuddering which was felt throughout the ship as if it was going to tear it apart. They settled on two four-bladed props on the outside and two five-bladed props on the inboard shafts which allowed the Washington to reach 27.1 knots fully loaded with 45,000 tons at 121,000 shaft horse power in February, 1942, one month before Wilcox's death. This was less than the 28 knots and 127,100 shp reached earlier when loaded to only 42,000 tons displacement. Even after Wilcox's death the Navy continued to switch out propellers until 1943 when they accepted they would never fully fix the problem. Did someone blame Wilcox for the excessive costs and multiple sea trials before
Washington
was sent to war? Could this be a possible motive for murder?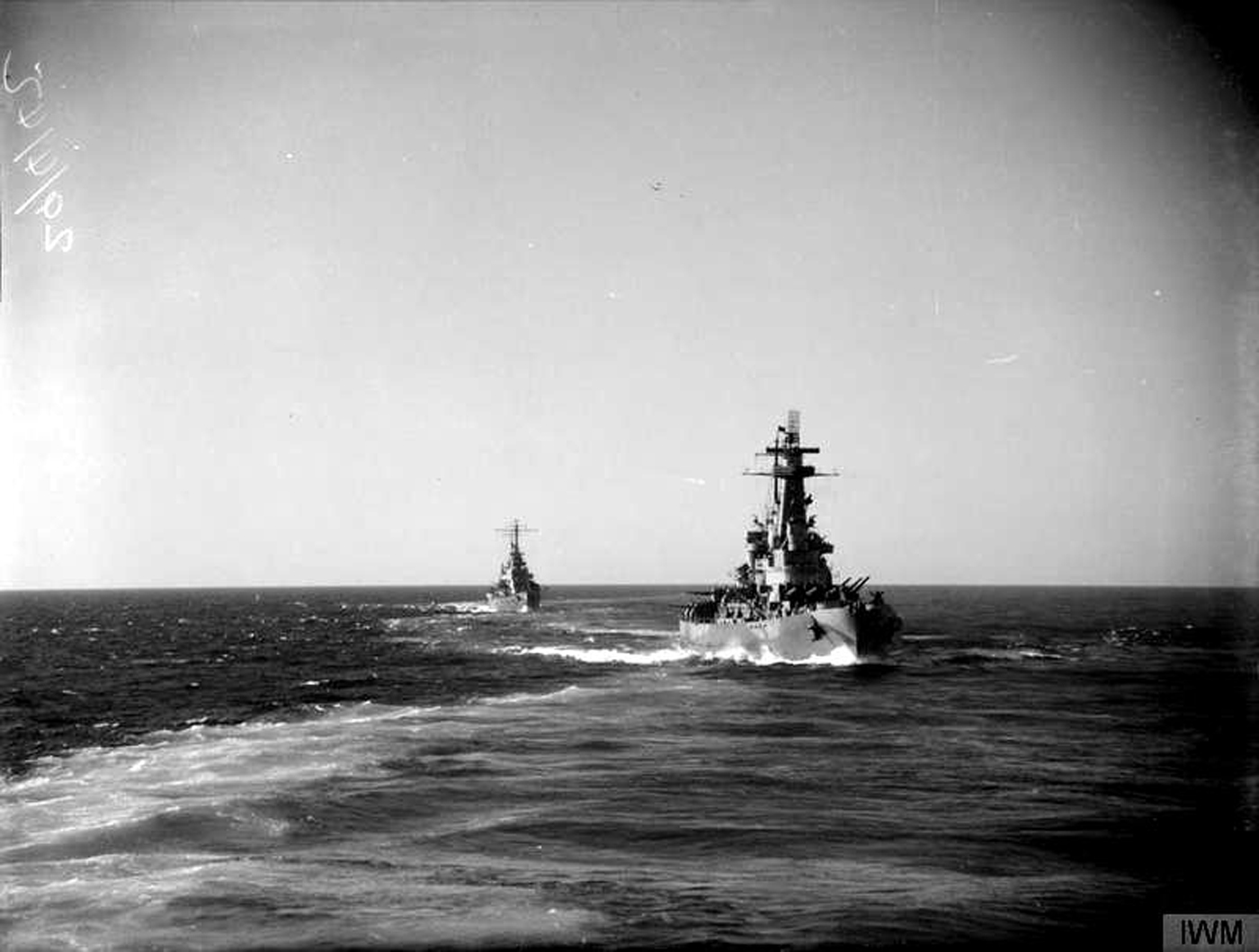 USS Washington in Task Force 39 with USS Wichita in formation behind, possibly taken from the USS Tuscaloosa, USN photo, dated May 1942 after joining the Royal Navy for escort duty due to the threat of KM Tirpitz to convoys.
Who knows? There was no body to autopsy, no smoking gun found in the hands of a killer, no forensics to analyze and back then, no
NCIS
to solve the riddle before the end of the show. The Board of Inquiry could not come up with a reasonable solution and simply wrote it off as an accident. Admiral Wilcox was given a memorial service and grave marker in his hometown of Milledgeville, Georgia, though his body was never recovered. The USS
Washington
went on to have a stellar career without him, but that is the subject for another story.